Perhaps you are on the hunt for a new boat or are a first time boat buyer and you've heard people talk about pontoons.
Pontoons are an awesome boat option and can perform many difference functions from fishing to water sports and more.
In your search for a boat, you have probably realized that there are hundreds, if not thousands of options on the maket.
This can make it hard to narrow down the "right" boat for your budget and your needs.
Today we are going to help you narrow your search just a little bit more by providing a list of the best pontoon boats by price category!
By the end of this post, you will understand what a pontoon boat is, how it performs, and you will know which options are the best on the market for your budget.
Let's get started!
What is a Pontoon Boat?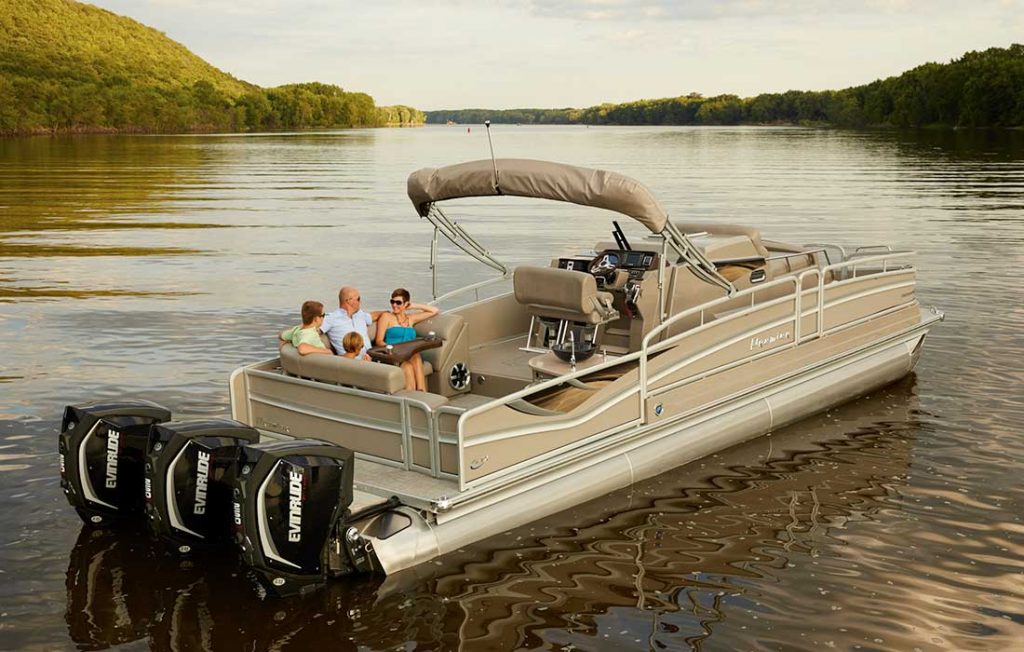 Pontoon boats are commonly referred to as "party boats" because of how spacious and large they are.
Larger pontoons can actually accommodate up to 16 people making them more like a "party barge" than a party boat!
Pontoons are designed quite differently than most other boats on the market – they float on two "pontoons" or buoyant metal structures to keep them afloat.
Unlike many boats that have a pointed front, pontoons are rectangular in shape and generally have seating that wraps around nearly the entire perimeter of the boat.
Pontoons are perhaps one of the most customizable boats, making them great for those that have specific wants and needs.
They are ideal if you like to host parties, events, or just spend lots of leisurely time out on the water.
If water sports are your thing, they offer water sports capabilities as well as fishing capabilities.
Although they can accommodate water sports and fishing, they really are geared more toward leisure and provide plenty of room for a sink, refrigerator, grills, and more – making your time on the water that much more comfortable and homey.
Choosing a Pontoon Boat
Now that you have a more in-depth understating of pontoon boats, let's go over a few key questions to consider before you search for a pontoon boat.
Answering these questions will save you time because you will know your budget and how you plan on using the pontoon boat.
Questions to consider before purchasing a pontoon boat:
How do I plan on using the pontoon boat? Fishing? Watersports? Leisure use?
What is my budget?
Do I need a trailer or will I be docking the boat?
How many people does it need to hold?
What kind of speed do I want?
How big is the lake I plan on being on most and are there restrictions?
Now that you've answered these questions, you can skip over any models that don't fit within your wants and needs, and especially your budget!
Pontoon Boats by Budget – $15,000 or Less
If you plan on buying a brand new pontoon, $15,000 is going to be the minimum you should plan on spending.
While yes, there are mini pontoons on the market that go for less than $15,000, they are very small and limited in what they can do.
Brands like Sun Tracker and Lowe specialize in value priced pontoons that are full-sized and feature rich.
Sun Tracker Bass Buggy 16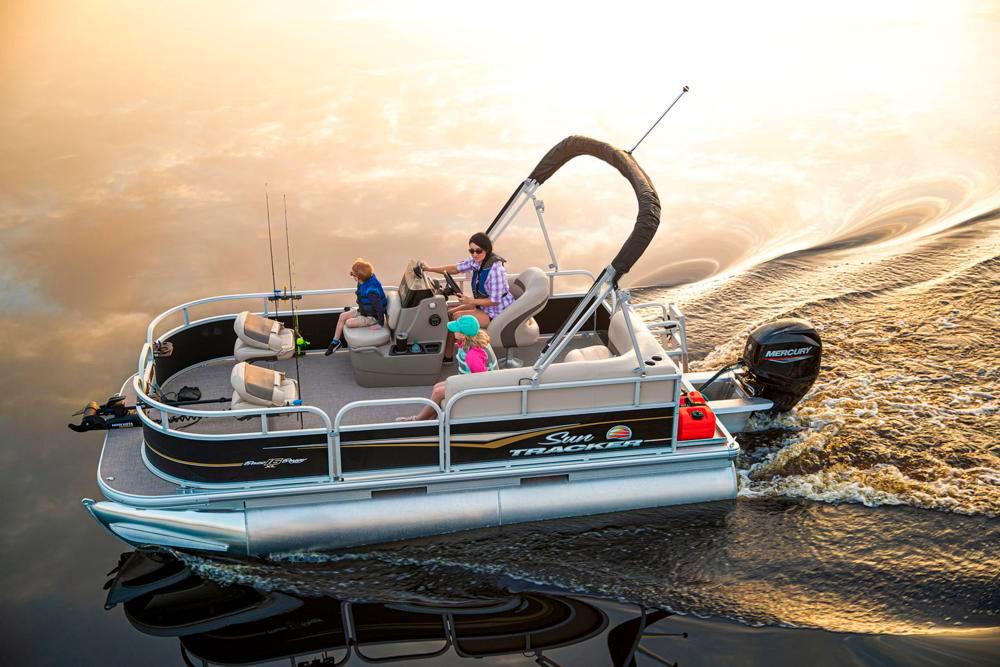 For this category, we would have to say that the Sun Tracker Bass Buggy 16 makes the top of the list and is the best value buy for this category.
This boat is built specifically for fishing but can be used for anything from cruising and more.
Key Features:
Maximum capacity: 7
9 fishing rod holders
Nine gallon live well can double as a storage compartment
Bimini top
Two folding chairs
Forward console seat
Interior courtesy lighting
L-Lounger
3 gates provide quick access to the water
Aft platform has fold down reboarding ladder
Single-axel trailer
20 or 50 horsepower Mercury outboard
10 year warranty
If fishing isn't your thing, Sun Tracker makes a similar boat called the Party Barge. It is basically the same boat, minus all of the fishing options!
A great alternative for those that just want to party and enjoy leisurely time on the water.
Lowe Ultra 162 Fish N Cruise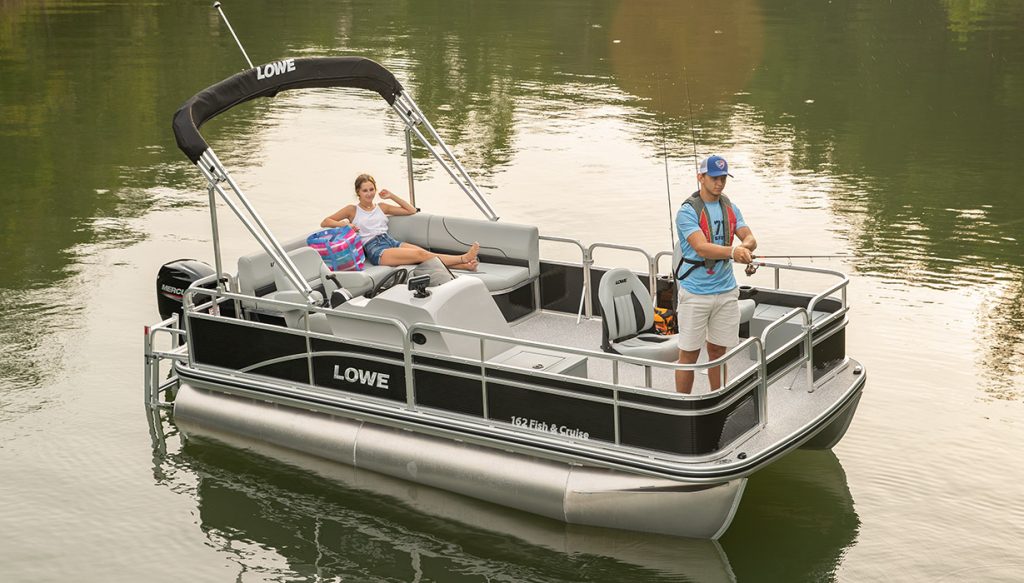 Like Sun Tracker, Lowe boats have been around for over 50 years and have a solid reputation.
One of the reasons that cosumers love Lowe boats is because of their pontoon "value" packages that they like to call their Ultra Series.
The Ultra Series boats are designed for people that are new to boating and are looking for great quality pontoons at a great value price.
Key Features of the Lowe Ultra 162 Fish N Cruise:
Maximum capacity: 8 people
Bimini Top
4-step boarding ladder
Half bow gate
Fold down driver and passenger seats
2 Folding fishing seat in bow
15 gallon livewell
Below console and under seat storage space
9.9 – 50 horsepower outboard range
Enjoy fishing, water activities, cruising, and more with your friends or family with this all-around well designed boat.
Pontoon Boats by Budget – $25,000 or Less
Lowe SS210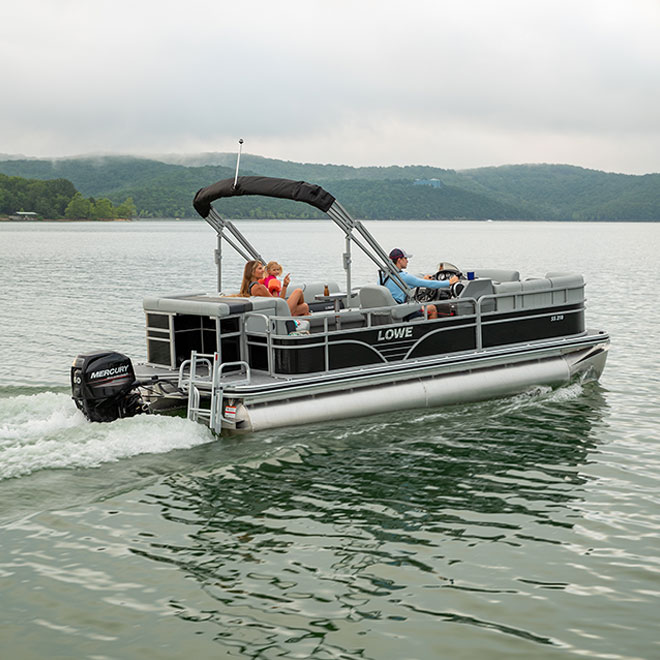 You will notice that this budget category is going to give you a lot of features not seen in the lower budget category.
First thing you will notice is the size.
We love the Lowe SS210 because not a lot of other pontoon manufacturers are able to get this size of pontoon, with these features, for this price range.
For this budget category, this is definitely going to be  your best value pick!
Key Features:
Maximum Capacity: 11 – 13 people
21.4″ overall length
9.9 – 150 horsepower outboard range
Storable dinette table w/ premium wood grain finish and cupholders
Bimini top
Stern entry w/heavy duty 4-step boarding ladder
Helm seat with folding armrests
Sun deck pad
Chaise lounge
Port bow couch
24 gallon built in fuel tank
Below console storage space and under seat storage
(4) 50 watt Jensen speakers
Jensen JMS3 stereo w/AM/FM tuner, Bluetooth® compatible, waterproof LCD display, LED backlit buttons
USB/MP3 port
4:1 Anti-feedback steering
With the Lowe SS 210, you can enjoy premium features and details at a fair value price.
Princecraft Jass 190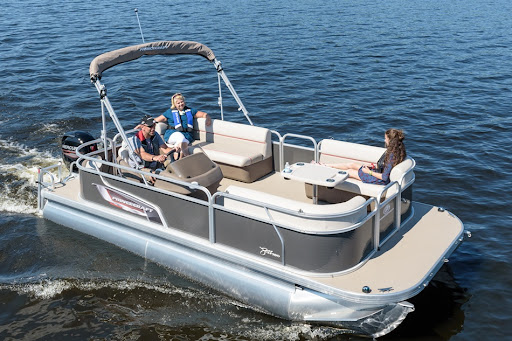 Another great value buy is the Princecraft Jass 190 that comes equiped with an impressive 60 hp motor!
This seems to be a really popular boat because it is really hard to find them for sale on the market!
Key Features:
Maximum capacity: 8
60 HP engine
19'6″ overall length
Ice box
Storage under all lounges and seating
Stern storage compartment
Stern boarding ladder
Bimini Top
Folding swivel drivers seat
Concert package: Jensen 160-watts Stereo with 2 speakers, speedometer, tachometer, horn, LED docking lights, and smoked windscreen
Affordable and fun, this boat has everything you need to enjoy your time on the water!
Lexington 320C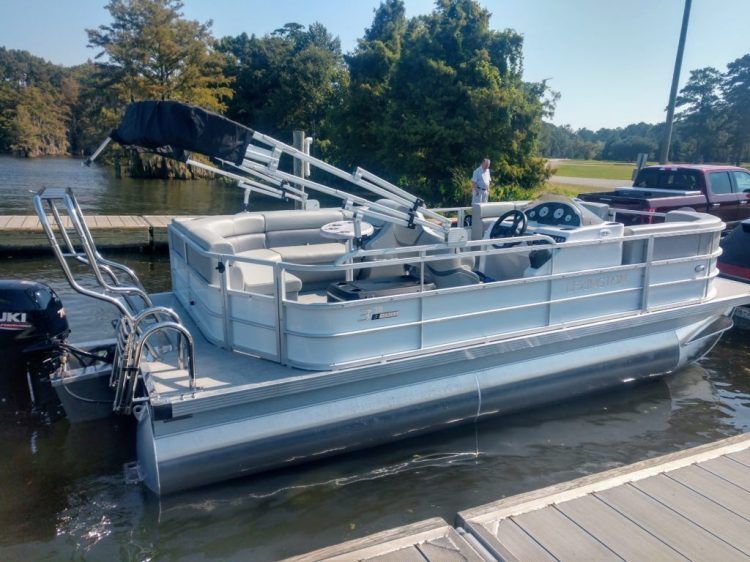 Last but not least in this budget category is the Lexington 320 C.
Although Lexington is a newer game in the boating industry, they've managed to make a reputable spot for themselves.
Their Lexington 320C offers some great features and a 90 hp motor for under $20,000!
Key Features:
Maximum Capacity: 11 people
20'4″ total length
Bimini top
Waterproof stereo system
USB device port
Diving board
Ski Tow bar optional add-on
ABS Console with Storage Area
Fully Enclosed Transom Area Underbelly
LED Courtesy Lights
Outboard motors range 50 – 115 hp
The Lexington 320 is the perfect pontoon for the value-oriented consumer that wants to relax and cruise on the water.
Pontoon Boats by Budget – $35,000 or Less
If this is your budget category, then you are going to be able to find so many more options form a wider array of manufacturers.
Sylvan 820 Mirage Cruise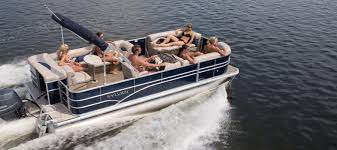 One of the reason why we love Sylvan pontoons is because they have a real luxury feel, but at a great value price.
All of their standard models still come with plush furniture, a bimini top, and a stereo system.
You can even choose your own interior and exterior color combinations!
Key features:
Maximum capacity: 9 people
Bimini top
Docking lights
Low-Back Helm Chair that Swivels & Slides
4 speaker Jensen Stereo w/ Bluetooth
Changing Room
Rear Entry Ladder
90 hp
If you want a boat that looks and feels like higher end boat, this one definitely will!
Landau 212 Island Breeze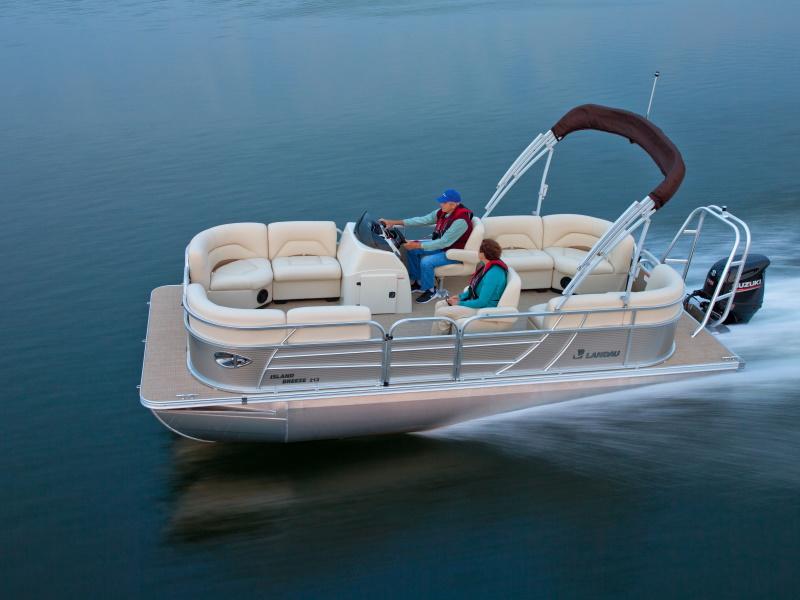 The Island Breeze 212 Cruise is all about great value.
Competitively priced, the 212 is well equipped with standard features and offers a wide variety of options to allow for customization based on individual preferences.
Key Features:
Maximum capacity: 9 – 12 people
Bimini Top
Captain's Chair With Arms
L – Seating At Stern
Limited Lifetime Warranty Deck Down & Seat Frames
Marine Audio AM/FM Marine Stereo With Two
Speakers (Bluetooth Ready)
MP3/USB Port
12 Volt Power Outlet At Console
4-Step Ladder
The Landau Island Breeze is great for those that light to spend long days on the water with friends or family – it is a great cruising boat!
Starcraft LX 18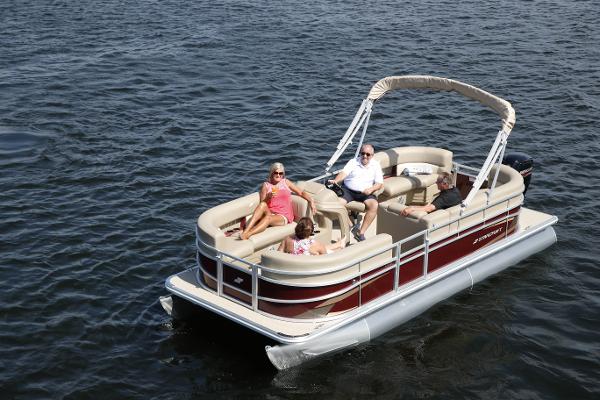 Affordable boating is not something that is talked about much, but the new LX series is perfect for a family on a budget.
The LX model comes with everything you need and you can add as many upgrades from there such as stereo, docking lights, mood lighting, and more.
Key features:
Maximum capacity: 8 people
60 hp
Bimini top
Aerated Stern Livewell
Low Back Helm Chair with Armrests
Aluminum 5 step ladder
It is also worth mentioning that Starcraft has been around since 1903 and their boats are know for being built with quality and made to last.
Pontoon Boats by Budget – $50,000 or Less
Bennington 22 GL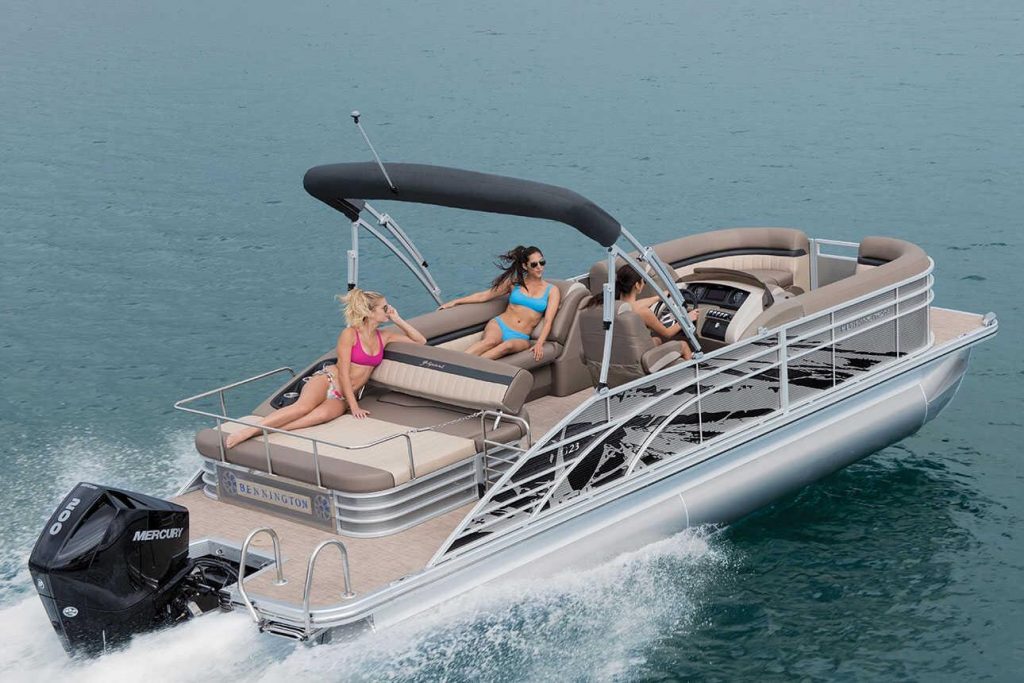 We've officially entered into the "luxury" pontoon category.
If your budget is in this area then you probably can appreciate all of the finer details that come with these boats.
Bennington is no stranger to the luxury pontoon boat category and if you have the budget, they are a no brainer option.
Key Features:
Maximum capacity: 11 people
Pilot house door
Cockpit with table and 3 sofas
6 bow open seats
Sun pad
27 Quart Cooler Seat Insert
Stainless steel and wood grain accents throughout
Blue Ice LED Illuminated Kicker Speakers (4)
All in One Kicker Stereo System (KMC45)
Privacy Enclosure (Port Stern Lounge)
Zebrawood Slate Trapezoid Table
4 Step Curved Boarding Ladder
Bimini cover
Docking Lights in ABS Light Housings
The Bennington 22 GL exhudes luxury and you can select from a variety of floor plans and customization to make it your own.
Harris Solstice 230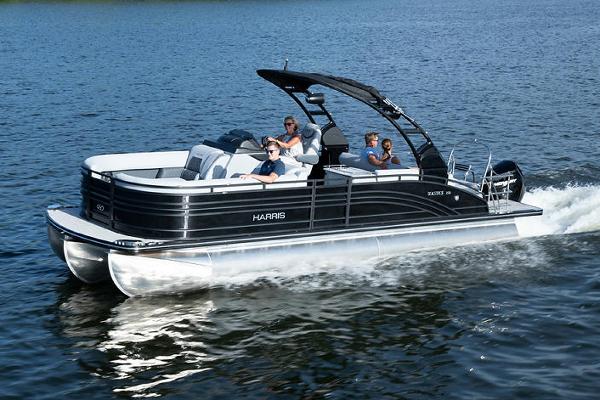 Another luxury brand worth looking into is Harris Solstice and the Harris Solstice 230 is a gorgeous pontoon for this budget category.
If you like speed, this one can get up to 300 hp with a tritoon or 200 hp with a standard pontoon.
For the category, this boat is also slightly larger and thus can hold a larger number of people.
Maximum capacity: 12-13 people
CZONE® digital switching
200 hp engine
4 floor plan options
Aft swim-deck
Bow and stern seating
Dual rear-facing lounges ideal for those who want to enjoy water sports
Under seat storage
Fence-mounted docking lights
Removable wind screen
Removable woodgrain table with molded-in drink holders
Electric Bimini
Dual USB charging ports
JL stereo with six Fusion speakers
The Harris Solstice 230 is a truly remarkable pontoon boat from one of the world's most experienced boat builders.
Conclusion
As we reach the conclusion of our article, hopefully you have a better idea of what types of pontoons you can get for each budget category.
If you budget is over $50,000, you can find pontoons up in the $100,000 range too, but we didn't cover that we will leave it for another day.
As you continue your pontoon search, keep referring back to your list of questions and always remember to stay within your budget!