If you've been on the hunt for a boat, you have most likely realized that there are so many options to choose from.
Two of the more popular options are bowriders and pontoons, but which one is the right one for you?
Both of these boats are great for families, groups, and those looking to enjoy comfortable and leisurely time out on the water.
Both of these types of boats can also accommodate different water activities such as water sports, speed, and more.
These boats have a lot to offer and while they may have many similarities, they also have several key differences that can really effect your decision on which one to choose.
Today we are going to learn more about each type of boat and discuss the advantages and disadvantages of each.
By the end of this article, you should have a better idea of which option is going to win your attention.
What is a Bowrider?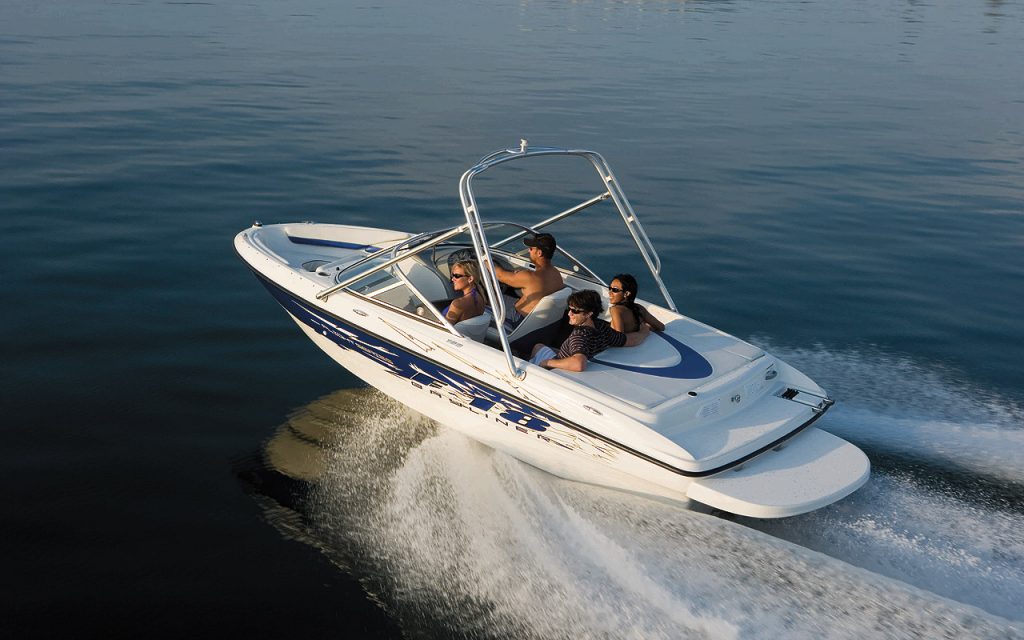 The first thing you will notice that distinguishes a bowrider from a pontoon is its angular, pointed bows.
This is where the term "ride the bow" came from because passengers are able to sit in the pointed bow area.
Bowriders have seating in the front bow area as well as in the back area, making this type of boat comfortable for up to 7 passengers.
If water sports is your thing, bowriders are great for water-skiing, tubing, wake-boarding, and even fishing if you choose models that are more specifically designed for fishing.
Bowriders are one of the more popular boat types and that is why you will see them out on the water, perhaps more than other types of boats.
Cost
Standard, smaller size bowriders without the extra bells and whistles range in price from $20,000 – $25,000 but can go up from there.
Standard bowrider models are considered the "smaller size" and they range in size from 14-16 feet.
Obviously these are just average size/pricing numbers but many factors will effect the price from engine speed, size, design features, add-ons or customization, paint job, leather or vinyl seating materials, appliances, live bait wells, and more.
You can make your bowrider as basic or as luxurious as you want and that will determine the price point.
In the real world, the average consumer will spend anywhere from $30,000 – $40,000 on a bowrider that can accommodate a family of 6.
If you have the extra money to spend and are looking for luxury, we've seen luxury models coming in hot at $150,000!
Bowriders can be customized to meet your needs and your budget, making them a great option for many boat buyers.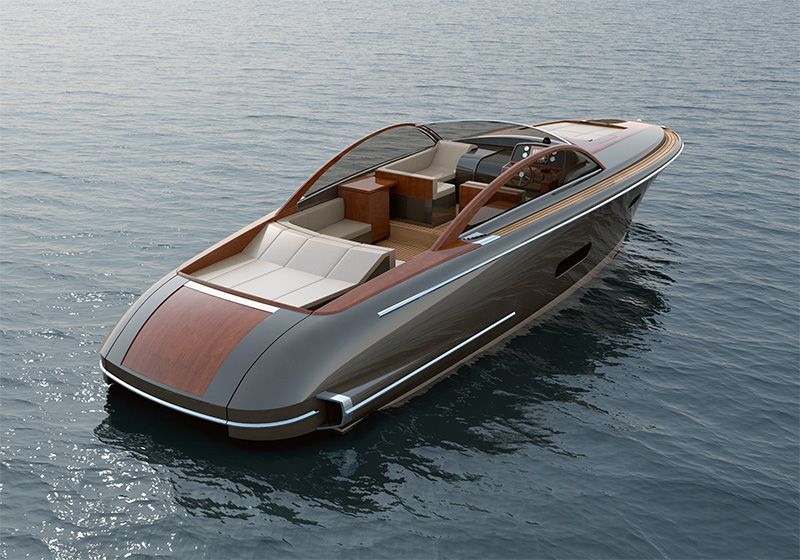 Maintenance
Like buying a car, buying a boat requires a larger initial investment and don't forget that just like cars, boats need maintenance and service – all of which cost money too.
In order to preserve your boat and get the longest use out of it, you will need to properly maintain and protect your boat from the elements and accidents.
Some of the maintenance and service costs associated with owning a boat include:
Insurance
Winterization and weatherproofing
Docking fees or mooring fees (if applicable)
Boating license fees
Boat trailer cost
Mooring fees
General maintenance and service
Cleaning fees
Docking and mooring fees can be pretty expensive, so storing your boat elsewhere (like at home) will really save you money in the long run.
If you are planning on purchasing a boat trailer, make sure you have the right vehicle for towing the trailer and the boat.
Some people overlook this important detail and end up having to buy a larger truck or SUV to tow their boat and trailer, leading to another huge cost to consider.
Other expenses that come with boating include life jackets, bumpers/fenders, and any add-ons such as speakers, water sporting gear and equipment, etc.
Speed
If your main priority is speed, then a bowrider is going to the choice for you.
Bowriders can reach speeds of upwards of 50 – 60 mph!
Their pointy design makes them a more speed-efficient option than pontoons because they can cut through rough waters with less push back.
So if you have a need for speed, pontoons won't give you the same speed as a bowrider will.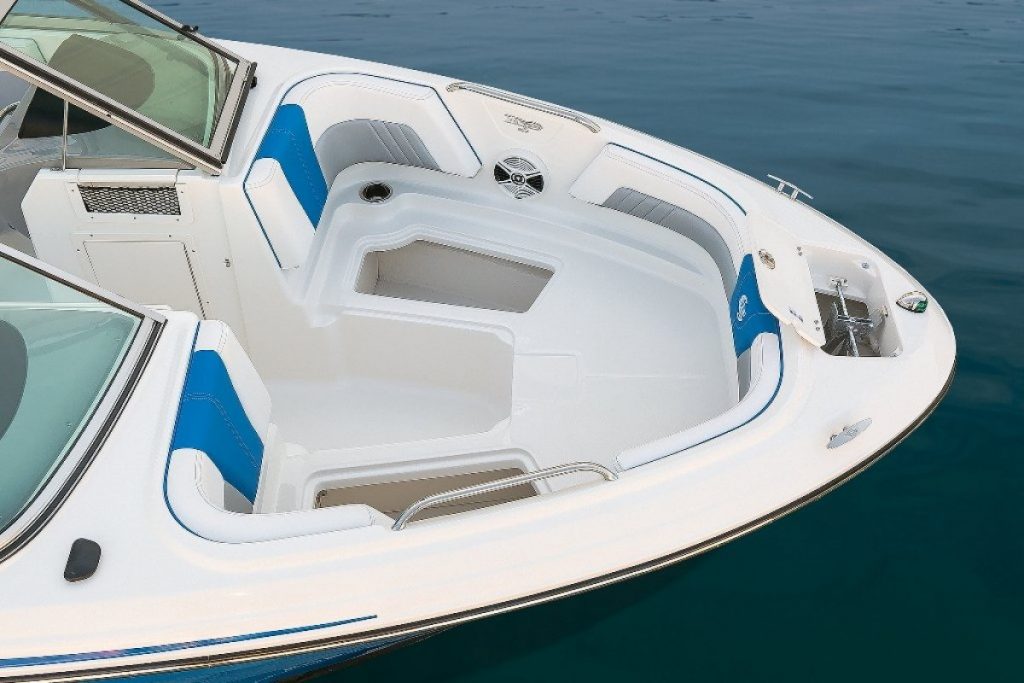 Size
Bowriders are generally smaller than pontoons because of their pointed front.
This usually means you get less overall square footage and less seating room.
As mentioned before, bowriders typically carry up to 7 passengers and average around 20-22 feet in length.
Handling
For water sports, you are going to want to have a boat that has a faster turning ability as well as the ability to make sharper turns.
Once again, the bowriders pointed shape gives them an advantage because they can quickly turn while remaining stable.
This provides excellent control when pulling a tube, water skiers, or wake boarders.
You can also create better wakes in general with a bowrider.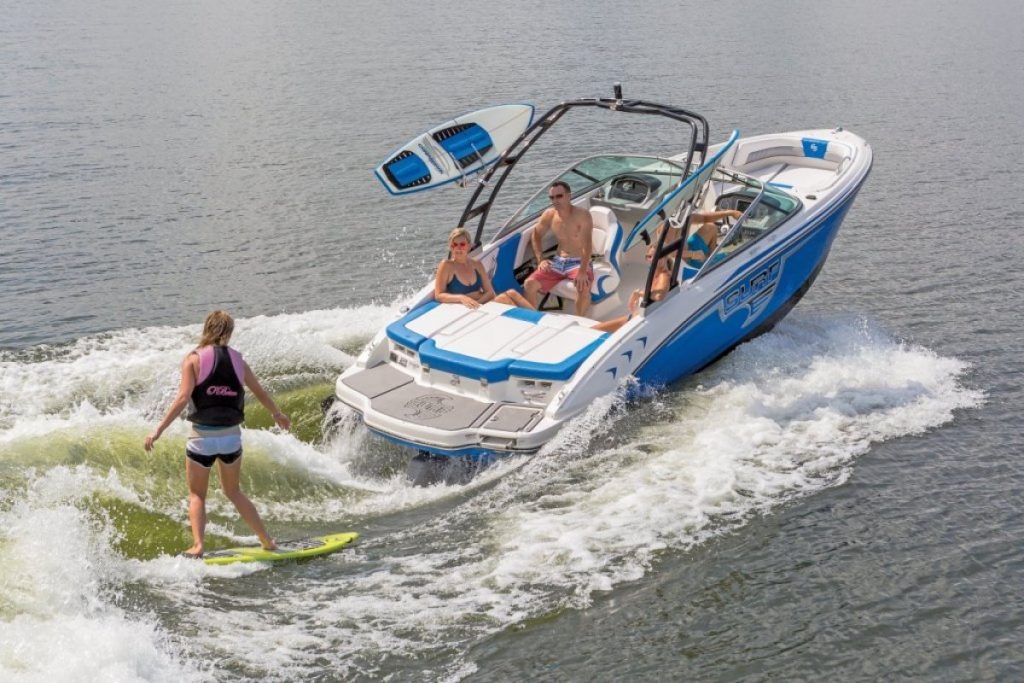 Storage
Many people think that pontoons will have more storage than bowriders because of their shape, but this is actually not correct!
Bowriders are designed with more storage to be able to0 accommodate storing skis, wake boards, and other water sports gear.
Storage on a bowrider is typically found under the floor.
Fishing
Bowriders can definitely be converted into a fishing boat and they are excellent for traveling further into quiet waters because they are able to quickly turn and maneuver. 
However, because of their shape and smaller size, they may not be as comfortable for larger groups or longer fishing trips.
Bowrider manufactures make specific fishing models and that is an option as well, although it can be more expensive depending on the model you choose.
What is a Pontoon?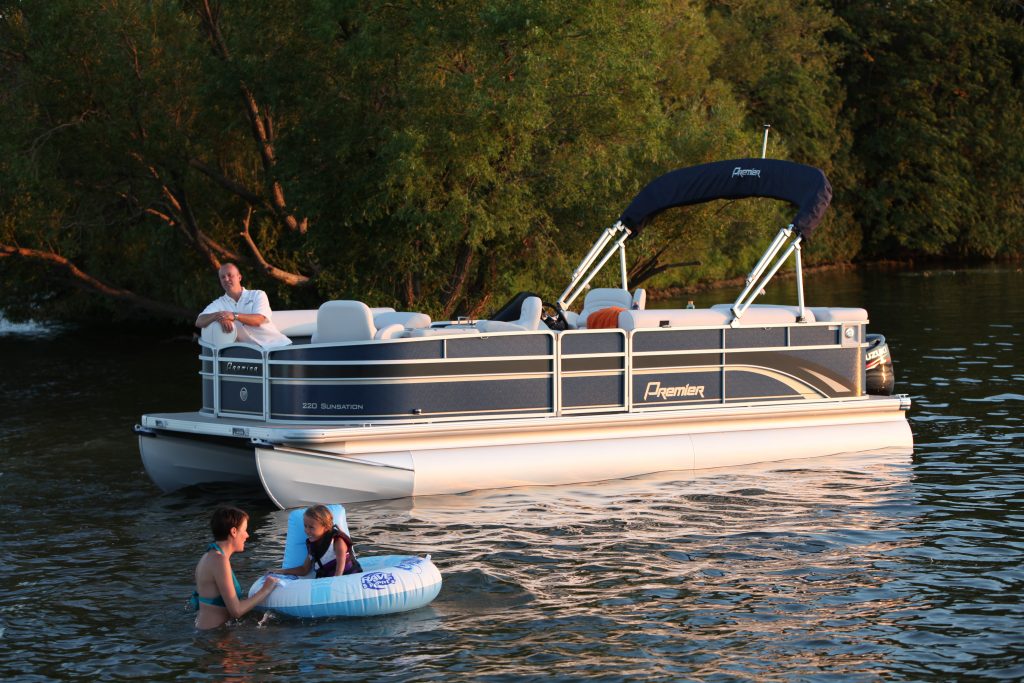 Pontoons are commonly referred to as "party boats" because of how spacious and large they are.
Larger pontoons can actually accommodate up to 16 people making them more like a "party barge" than a party boat!
Pontoons are designed quite differently than most other boats on the market – they float on two "pontoons" or buoyant metal structures to keep them afloat. 
Unlike many boats that have a pointed front, pontoons are rectangular in shape and generally have seating that wraps around nearly the entire perimeter of the boat.
Pontoons are perhaps one of the most customizable boats, making them great for those that have specific wants and needs.
They are ideal if you like to host parties, events, or just spend lots of leisurely time out on the water.
If water sports are your thing, they offer water sports capabilities as well as fishing capabilities.
Although they can accommodate water sports and fishing, they really are geared more toward leisure and provide plenty of room for a sink, refrigerator, grills, and more – making your time on the water that much more comfortable and homey.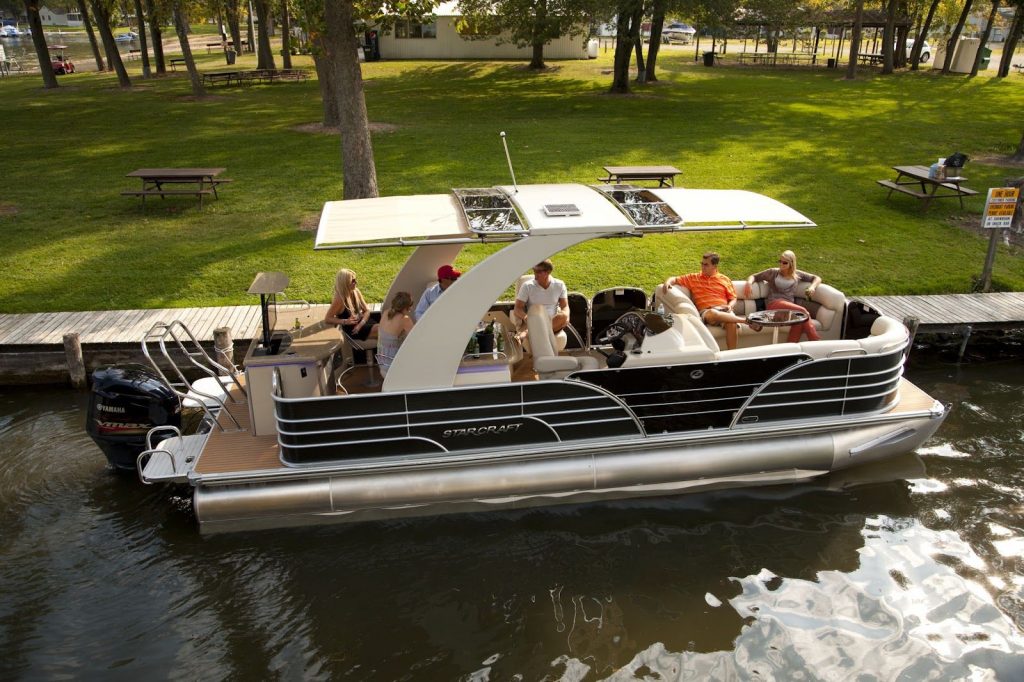 Cost
Just like bowriders, pontoons range in cost from standard, smaller models and going up in price for larger, more luxurious models.
A value model pontoon will range in price from $15,000 – $18,000 and comes at about 16 – 19 feet.
But like we mentioned above, larger pontoons can accommodate 16 people, making the larger models 25 – 28 feet in length and coming in at a whopping $100,000 for the customized luxury versions.
Again, the price will all come down to the features and customizations that you want.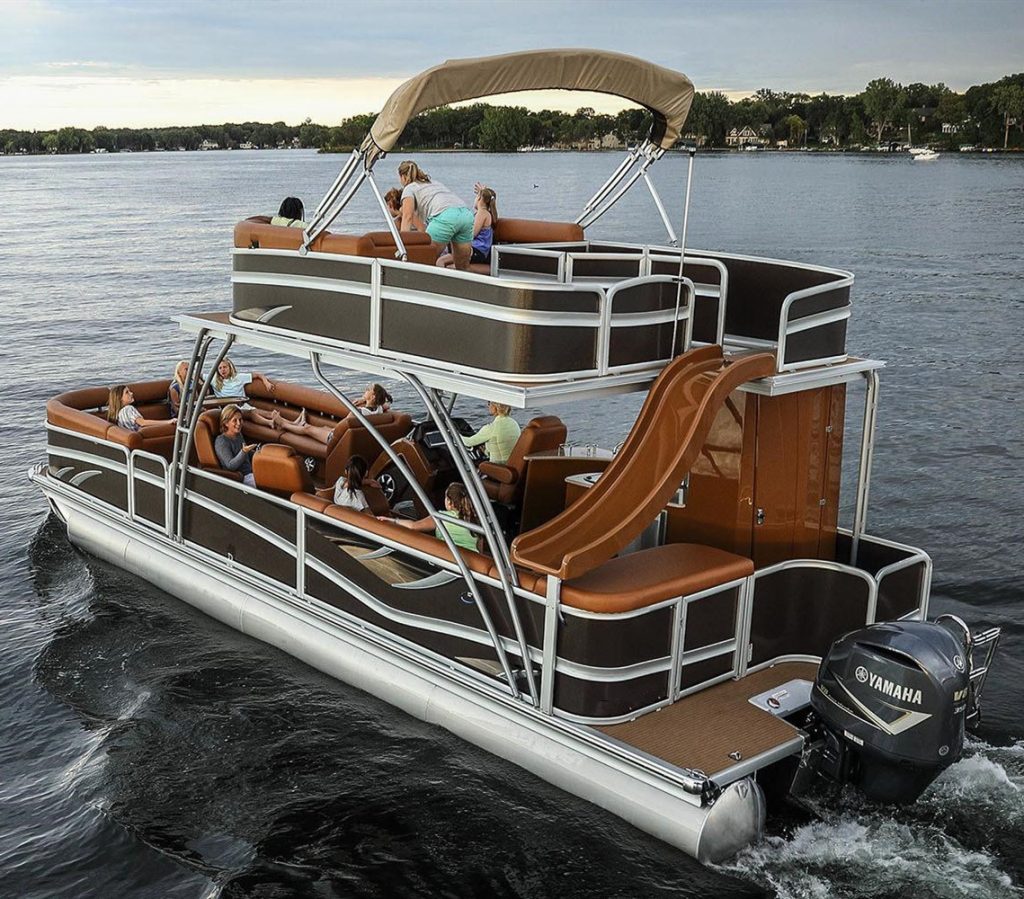 Maintenance
Just like bowriders, pontoons have many of the same maintenance and service costs:
Insurance
Winterization and weatherproofing
Docking fees or mooring fees (if applicable)
Boating license fees
Boat trailer cost
Mooring fees
General maintenance and service
Cleaning fees
Don't forget the life jackets for every person on-board as well as any additional items like water sports gear, fishing gear, grills, refrigerator, etc.
Oh, and given that pontoons can be quite large, make sure that you have the right towing capabilities.
It is also important to mention that some States have height and weight requirements for what you can tow on the roads and highways.
If your pontoon is too large, you will need to find an alternative way to move it around or store it.
Speed
Newer pontoon models can reach up to 35-40 mph but they typically travel around 20 mph or so.
You can always install a second engine onto your pontoon for more speed, but this can cost anywhere from $10,000 and going up from there.
Size
Generally, pontoons are going to be much larger than bowriders.
Pontoons offer seating around the perimeter of the boat as well as the captains chair.
Some pontoons have middle seats or an upper deck or sundeck.
Because of their rectangular shape, pontoons offer more room for guests to walk around and comfortably hang out.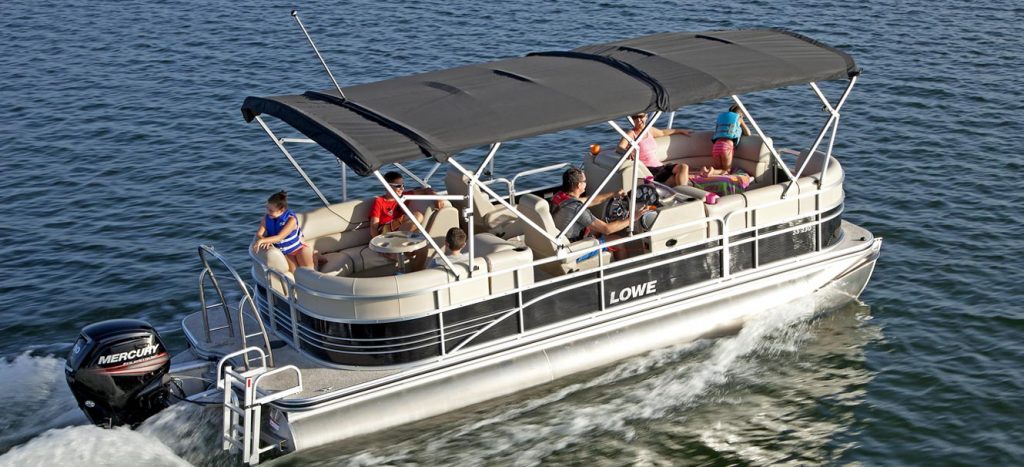 Storage
Pontoons do offer quite a bit of storage, but it is usually design for smaller items such as coolers, anchors, ropes, and livewells for fishing models.
Fishing
Just like bowriders, pontoons can be upgraded to meet your fishing needs or you can purchase pontoons that are specifically manufactured for fishing.
Pontoons make great long-term fishing boats because they are comfortable and spacious.
Keep in mind though that most fishing pontoons will be smaller in order to increase speed and turning capabilities.
Making a Decision: Bowrider or Pontoon?
Now that you have a better understanding of each boat, it's time to make a decision!
As you can see, both of these boats are extremely versatile, customizable, and have very similar price ranges.
At this point, it all boils down to what you are looking for and how you plan on using your boat.
Here are a few questions to help you with your decision:
What is my budget?
How will I be using my boat? Water skiing, fishing, leisure, group parties?
What is the maximum number of people I want on my boat?
Do I plan on hosting larger groups, or smaller groups on my boat?
Where do I plan on storing my boat?
What are the size restrictions in my area for towing a boat and trailer on roads and highways?
If you are primarily into water sports and speed, then a bowrider is going to be your best choice.
For those of you that love hosting parties and larger groups or perhaps go on long day-trip fishing excursions, a pontoon may be better suited for you.
The best thing about both of these boats is that you can customize them to meet your needs!
They also both come in smaller to larger sizes and if you are on a tighter budget, you can find bowriders and pontoons that are more budget friendly.
Whichever you choose, they are both guaranteed to deliver hours of fun on the water with your friends and family!