Bowriders vs deck boats, what is the difference anyways and how do you know which boat is the right one for you? 
If you're at all curious about this, you've come to the right place.
Today we are going to learn about bowriders and deckboats and discuss their similarities and differences so you can make an informed decision when looking for a boat of your own.
While bowriders and deckboats share many of the same characteristics, there are also several key differences that you need to know before making a decision.
What is a Bowrider?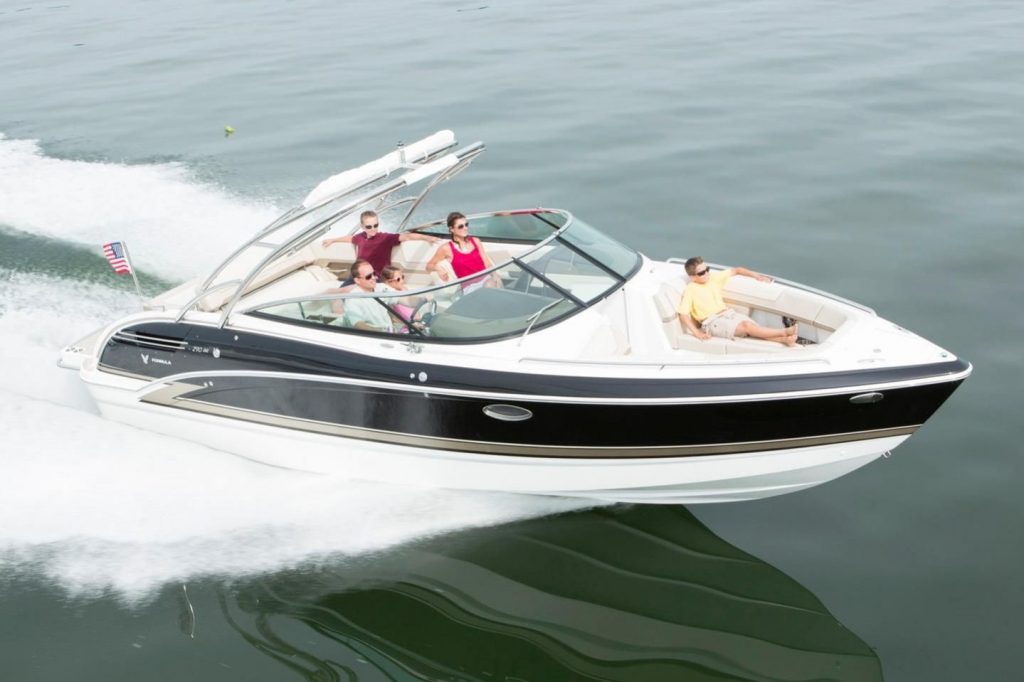 The first thing you will notice that distinguishes a bowrider from a deck boat is its angular, pointed bows.
This is where the term "ride the bow" came from because passengers are able to sit in the pointed bow area.
Bowriders have seating in the front bow area as well as in the back area, making this type of boat comfortable for up to 7 passengers.
But keep in mind that due to the pointed design of the bow, seating may be more limited or narrow in the front area of the boat.
If water sports is your thing, bowriders are great for water-skiing, tubing, wake-boarding, and even fishing if you choose models that are more specifically designed for fishing.
Bowriders are one of the more popular boat types and that is why you will see them out on the water, perhaps more than other types of boats.
What is a Deck Boat?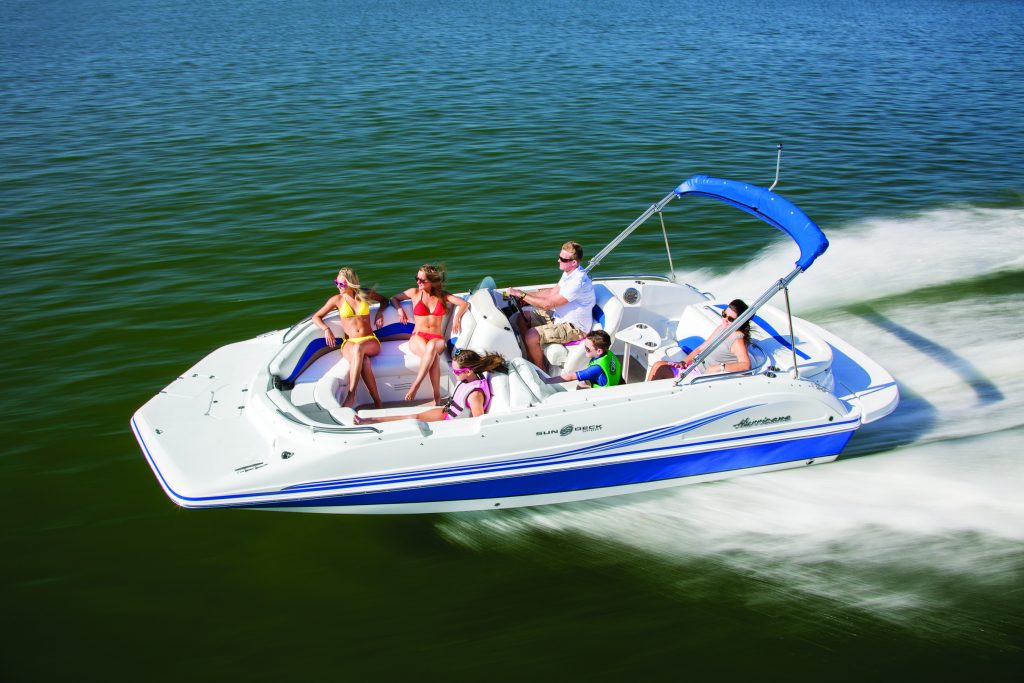 Deck boats, as the name suggests, are characterized by their wide bows .
While bowriders have pointed bows, deck boats have wider bows which provide more deck space – hence the name "deck boat."
Deck boats can have different hull designs, some have a deep-V design with a flared hull while others have a tri-hull design that creates a wide hull area and transitions into a deep-V at the stern.
Whatever the hull design, deck boats generally have more front deck room than bowriders.
In order for a bowrider to be as roomy as a deck boat, it would need to have a much longer overall bow area and be a larger boat.
For many, that extra room provided by a deck boat is what seals the deal between the two.
Bowrider vs Deck Boat: Cost
The cost between a bowrider and deck boat are actually very comparable.
Standard, smaller size bowriders and deck boats, without the extra bells and whistles, range in price from $20,000 – $25,000 but can go up from there.
Standard models are considered the "smaller size" and they range in size from 14-16 feet.
Obviously these are just average size/pricing numbers but many factors will effect the price from engine speed, size, design features, add-ons or customization, paint job, leather or vinyl seating materials, appliances, live bait wells, and more.
You can make your bowrider or deck boat as basic or as luxurious as you want and that will determine the price point.
In the real world, the average consumer will spend anywhere from $30,000 – $40,000 on these types of boats that can accommodate a family of 6-11.
If you have the extra money to spend and are looking for luxury, we've seen luxury models coming in hot at $150,000!
Bowriders and Deck boats can be customized to meet your needs and your budget, making them a great option for many boat buyers.
Bowrider vs Deck Boat: Capacity
Bowriders typically have a more narrow body which narrows even more as you get to the tip of the bow.
This means that space is a little more limited in comparison to the wider design of the deck boat.
The wide open floor plan of deck boats gives them an advantage over bowriders in terms of space and this is also evident in their wide-bow designed front.
To add to this, the extra room and seating on a deck boat means more room for storage because often times, deck boats have extra storage underneath their seats.
That being said, both boats can be customized to meet your needs and your budget.
If you like the point design of the bowrider, you can get a larger size to accommodate for more space.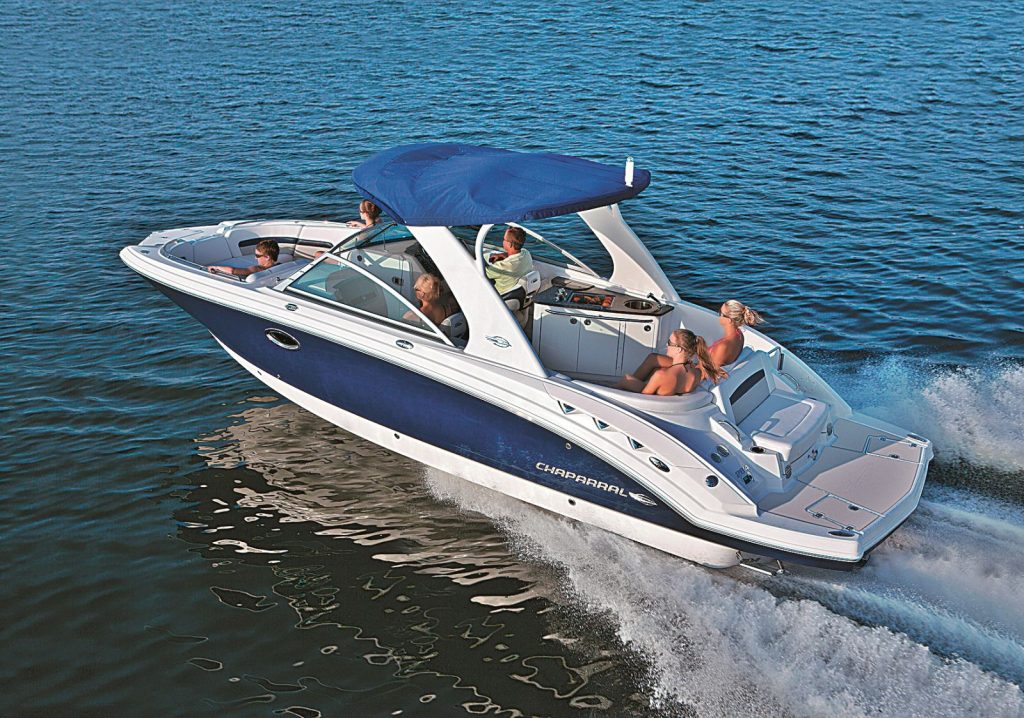 Bowrider vs Deck Boat: Function
Bowriders and Deck Boats perform pretty much all of the same functions which include water sports, fishing, leisure use, speed, and more.
If you are into water sports, you can add towers to accommodate your water sports gear.
If fishing is your thing, you can buy a custom fishing version of both types of boats or purchase fishing packages.
When it comes to function, we can't really say one is better than the other because they can both perform the same functions – it will all just depend how you want to use it and what additional customization's you are willing to invest in.
Bowrider vs Deck Boat: Performance
Performance is where a lot of people realize which option is better for them, or not.
When it comes to water sporting and handling, the V-hull of the bowrider is almost always going to perform better.
When the hull meets the water, nothing beats the pointy hull of the bowrider – it allows you to turn and maneuver much more quickly and smoothly than the deck boat.
This provides excellent control when pulling a tube, water skiers, or wake boarders.
However, if you need more room and don't mind a very small decrease in performance, deck boats still perform really well.
In fact, the average boater may not even notice the difference unless they've driven and compared the two.
Bowrider vs Deck Boat: Maintenance
You may not be surprised to learn that the maintenance and service for bowriders and deck boats is pretty much the same.
Like buying a car, buying a boat requires a larger initial investment and don't forget that just like cars, boats need maintenance and service – all of which cost money too.
In order to preserve your boat and get the longest use out of it, you will need to properly maintain and protect your boat from the elements and accidents.
Some of the maintenance and service costs associated with owning a boat include:
Insurance
Winterization and weatherproofing
Docking fees or mooring fees (if applicable)
Boating license fees
Boat trailer cost
Mooring fees
General maintenance and service
Cleaning fees
Don't forget the life jackets for every person on-board as well as any additional items like water sports gear, fishing gear, etc.
Oh, and given that these boats can be quite large (depending on the size you want), make sure that you have the right towing capabilities.
It is also important to mention that some States have height and weight requirements for what you can tow on the roads and highways.
If your boat is too large, you will need to find an alternative way to move it around or store it.
Popular Bowrider and Deckboat Models
Two give you an idea of what a bowrider and deck boat look like and what features they come with, here are two popular models to consider.
Bayliner 190 Deck Boat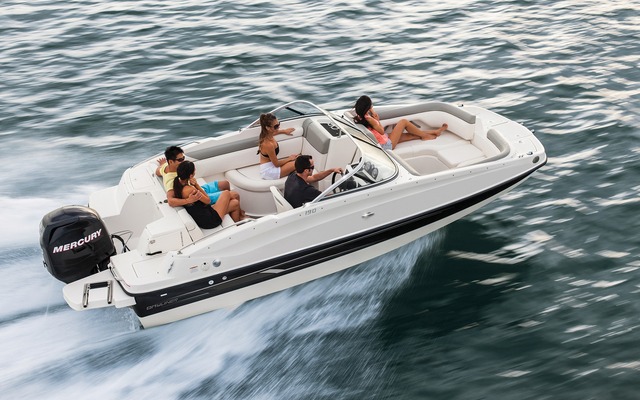 Entry level model that is very well designed in terms of space
Outboard motor that is fuel efficient
11 passenger maximum
Ample dry storage
Bayliner VR4 Bowrider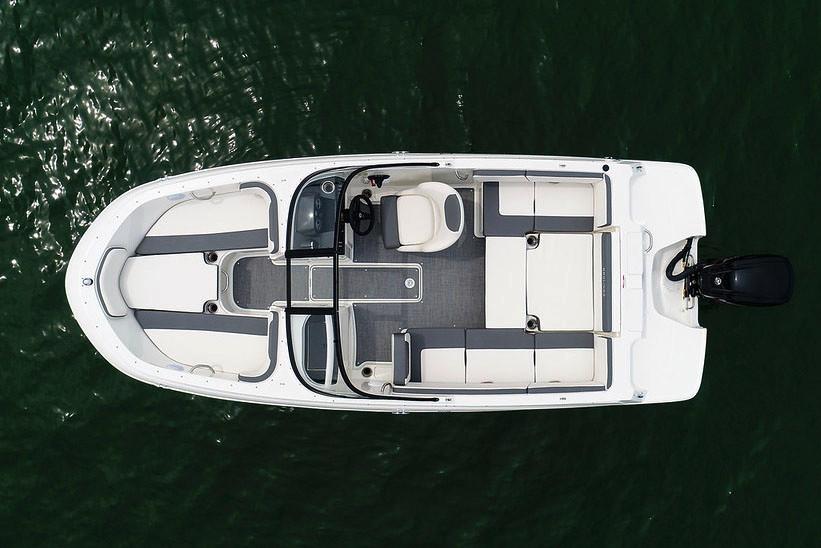 Entry level model that is designed well and offers lots of space
7 passenger maximum
Fishing and water sports add-ons available
Great floor plan makes up for lack of square footage
Conclusion
What we feel it really boils down to is how you plan on using the boat. 
Because these two boats can function the same, you will need to decide if you want more room or more control when doing water sports.
Either type of boat is going to give you functionality, performance, and lots of water fun!
That is what makes both of these boats the most popular boats on the water!