When looking into the different brands of pontoons, you might wonder if there are any pontoon brands to avoid.
Pontoon boats are not cheap, and even the lower, more standard models can cost a pretty penny.
You want to get the best for your money, and that is totally understandable.
But the truth is, there isn't really a pontoon brand that should be totally avoided.
In fact, if the boat was engineered and manufactured within the last few decades, it is most likely designed and manufactured with the highest safety standards and ratings.
So to answer your question, no, there aren't really any pontoon brands to avoid per-se.
Where pontoon boats will begin to differ is going to be when it comes to the quality of amenities, fixtures, and fittings as well as the overall construction.
Rather than looking at the different brands, we recommend looking at the specifics of each individual boat.
You should look beyond the shiny features that you see on deck such as the seating, flooring, tech accessories, and other gear.
You'll want to take a closer look at the actual workmanship of the boat.
This includes how the rails and deck are manufactured and attached to the boat, how the welding has been done, what kinds of brackets are used on the pontoon tubes, and on used boats you will want to look for any damage or repairs and how the repairs were made.
To help you become an expert at finding a great quality pontoon, regardless of the brand, we have put together this little article to give you an idea of what to do and what not to do.
So before you decide on a boat, read through this mini guide and you will know how to make the right decision.
As mentioned before, this little guide is not about the brand of the pontoon boat but rather what key features and characteristics to look for when shopping for a pontoon boat.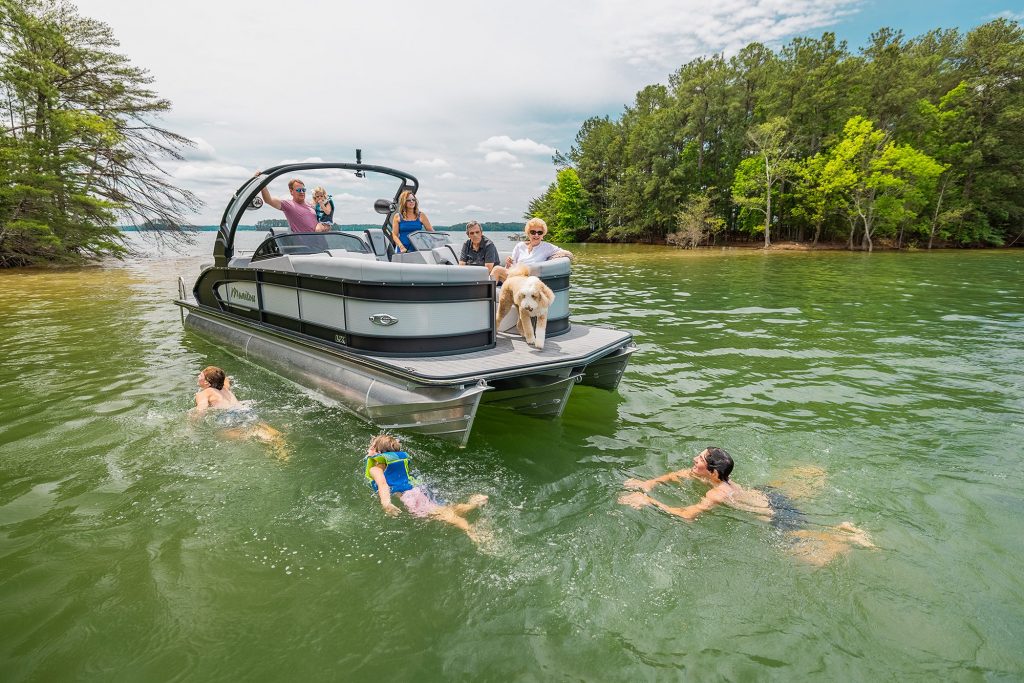 Questions to Consider when Shopping for a Pontoon
Before pulling the plug on a pontoon, there are some questions you want to ask yourself.
Answering these questions will help you narrow down your wants and needs as well as your budget:
What is my budget?
What do I want to use the pontoon boat for? (fishing, leisure, etc)
Do I plan on using it mainly alone or with family and friends? (passenger capacity)
How much deck space and seating do I need?
Where do I plan on storing the boat?
How do I plan on towing the boat?
Do I want a new or used pontoon?
What to avoid when buying a pontoon
Pontoon boats are expensive and that is most likely why you are reading this article.
You've probably done some research and are realizing that if you are going to spend that much money on a boat, you want to get it right and purchase a great one.
We've seen too many consumers purchase a pontoon boat based on a brand recommendation but without actually looking at specification only to realize that it wasn't the right choice for them.
So rather than focusing on which brand is better than the other, here are some things to avoid when buying a pontoon:
Size and Capacity
Bigger isn't necessarily better.
When buying a larger pontoon, there are more expenses to consider such as fuel costs, boat insurance, docking and storage as well as towing, repairs and maintenance costs, and so on. 
So rather than looking for the largest pontoon for the price, you want to decide what size you need.
If realistically, you only plan on having 6 passengers at most, then stick to a 6 passenger model.
Overall it will save you money and you will find it more useful and accommodating for your needs.
New or Used?
Buying a used Pontoon can significantly decrease how much you are going to spend but it certainly comes with its risks.
If you have zero experience with boats, then you may want to bring a more experienced individual with you.
Salespeople are good at their job and they are going to try and close the deal.
One big mistake that consumers make is not being knowledgeable when going in to buy a used boat.
As an example, don't ever buy a boat without knowing how many hours are on the motor.
Buying a new pontoon boat means you will be buying from an authorized dealer.
Authorized dealers have relationships with the manufacturers and they can often offer extended warranty.
While buying new costs more, it can offer more piece of mind.
Most used boats come in "as-seen" condition.
Buying new has its advantages unless you know a-lot about boats and can yourself or someone you know can do a thorough inspection.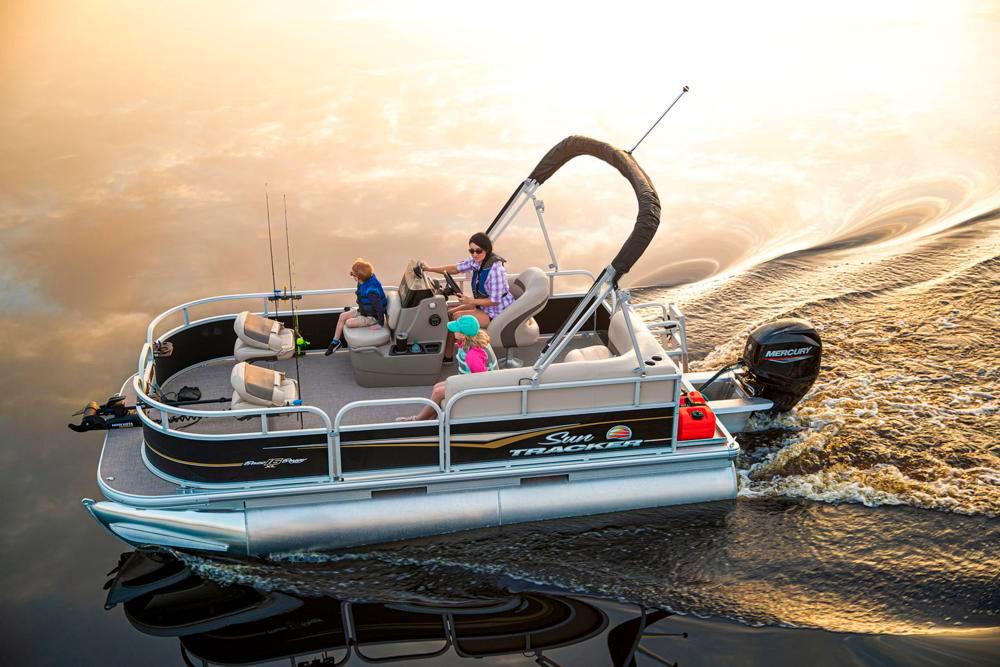 Don't overpay
One other mistake that many pontoon boat buyers make is overpaying.
When you find a boat that you are considering purchasing, you should make sure you research the comps.
Look for similar boat brands in the same condition with similar hours and see what they are selling for.
If the boat in question is overpriced, this will give you some negotiating power and will keep you from spending more than you should.
NMMA Certification
NMMA Certification is a program that was created to ensure that boat manufacturers comply with industry safety and construction standards and federal regulations.
In order for a boat to be certified, a boat manufacturer must certify each boat model that they produce.
Purchasing a boat that is NMMA certified will guarantee that the boat is built to meet national quality guidelines and standards.
Brands we love
While we did say that there are not any pontoon brands we want you to avoid, we do have some brands that we love:
Avalon
Bennington
Bentley
Crest
Godfrey
Harris
Manitou
Premier Pontoons
Sweetwater
Sylvan 
All of the boats on this list are NMMA certified and comply with the US Coast Guard and the American Yacht and Boat Council specifications.
Furthermore, they are all manufactured in the USA.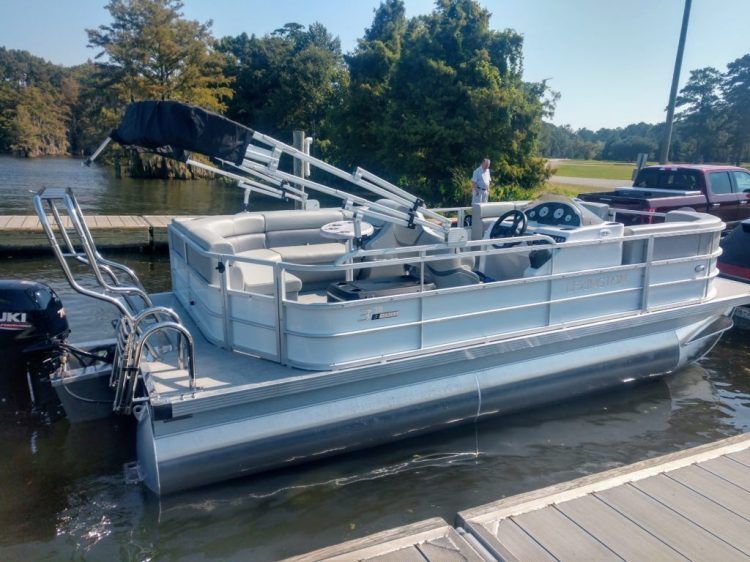 Test Drive the Pontoon
Believe it or not, we've seen many consumers purchase boats without test driving them.
Just like a car, you should always test drive a boat before purchasing it, whether it is new or used.
When test driving the pontoon, you will want to also look at the tachomoter, check the water temperature, water pressure, voltmeter, and trim and tilt.
Also make sure the boat steers smoothly and doesn't have any obstructed sight lines.