If you are new to the world of yachts, you may be struggling to figure out what the different terminology and lingo is.
In this article we are going to try to simplify the terminology for you so that you can understand the different types of yachts.
There are four main types of yachts and we will break them up and share examples of each.
Let's get started!
Types of Yachts
Express Yachts
The terms used to describe a yacht with a single deck above and living quarters below are Express, Express Cruiser, Cruiser, or Sports Cruiser.
These types of yachts are known for their sporty, sleek look and are sometimes referred to as the sports car of the yachting world.
Here are a few examples of these types of yachts:
Sea Ray 51 Sundancer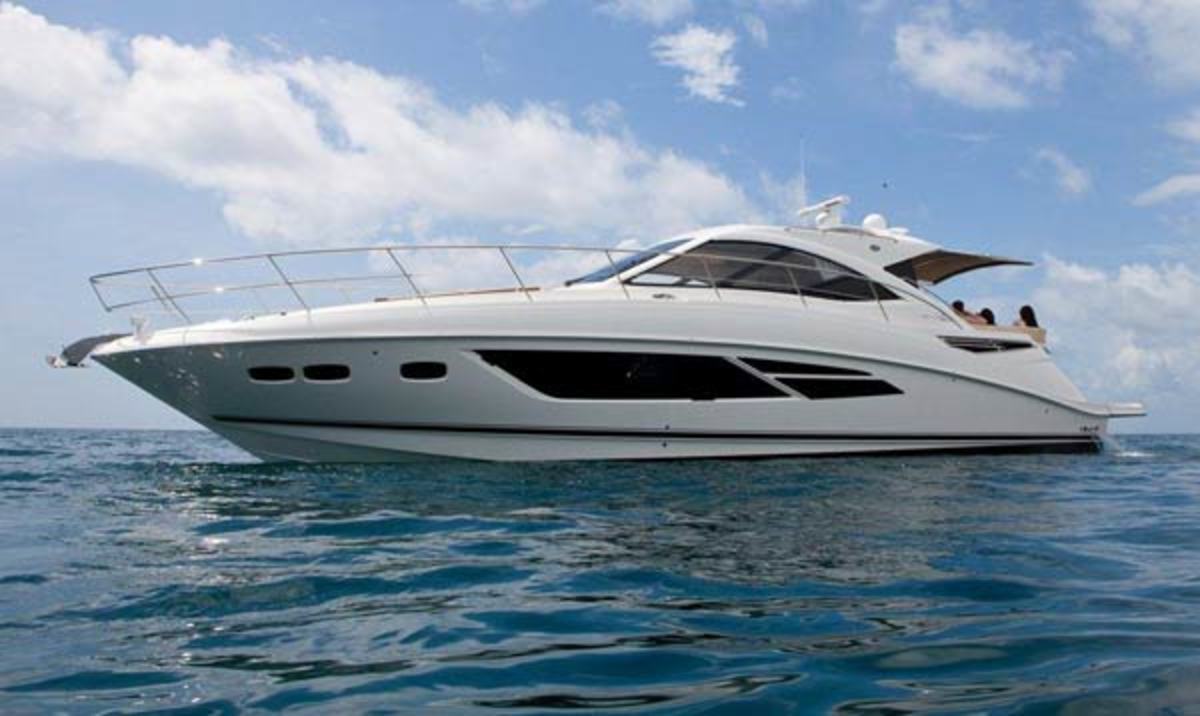 51' Sea Ray Sundancer is also called a "Hard Top Express" which is a hard top over the helm area that provides shade.
Riva 63 Virtus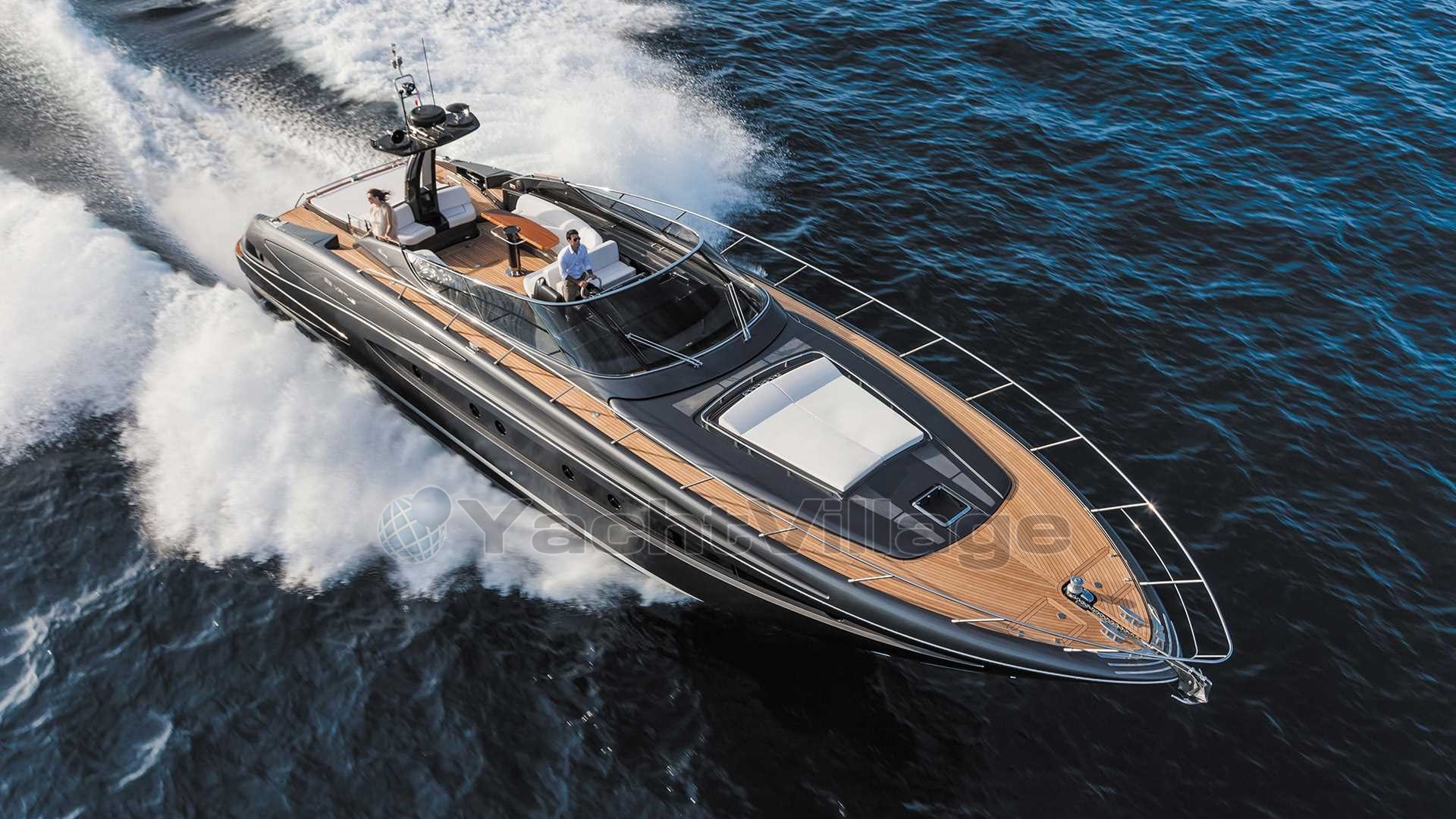 Another name for the Riva 63 Virtus is an "open express."
The open express has a single deck above the hull and one level with living quarters below.
Another name for this type of boat is a "Medditerranean" style yacht because it provides maximum space for sunbathing with little to no shade or cover.
Pershing 80 Express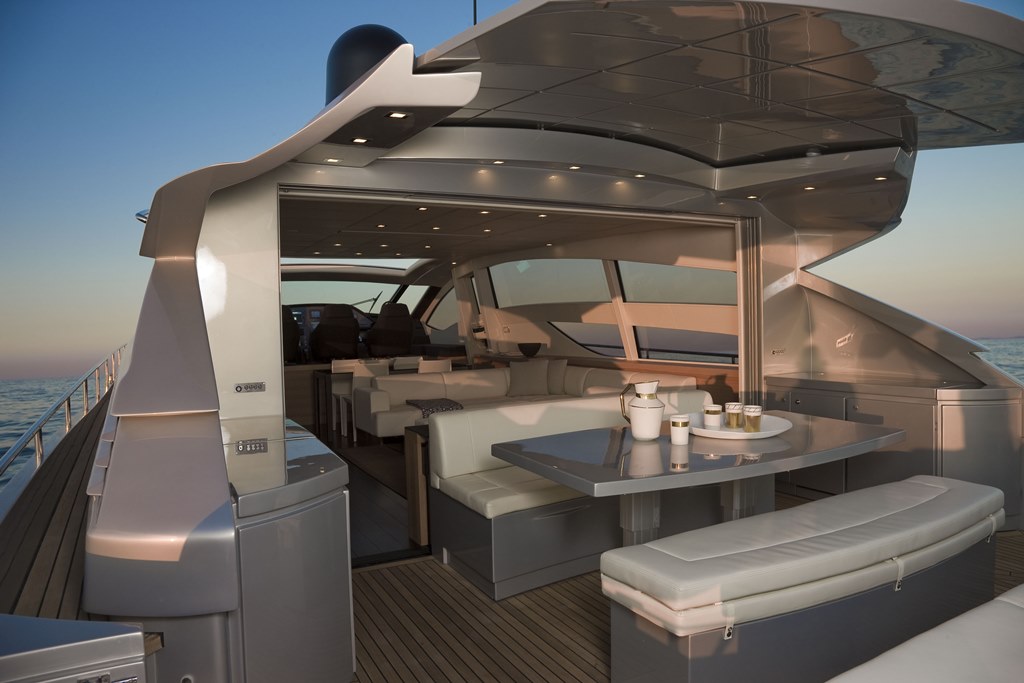 The Pershing 80 Express is also an express yacht that has afully enclosed area above the decks.
The hardtop has doors that close off or open to create a fully climate controlled indoor living area above decks.
There are many different brands and models and styles of "express" boats but the main similarity that ties them all together into this category is the 2 deck layout.
Flybridge, Sedan or Sport Bridge
Yachts that have an area on top with views all around and a control station plus a seating and lounging space are called Flybridge, Sedan, Sedan Bridge, or Sport Bridge.
Here are a few examples of these types of yachts:
Sunseeker 74 Predator Sport Bridge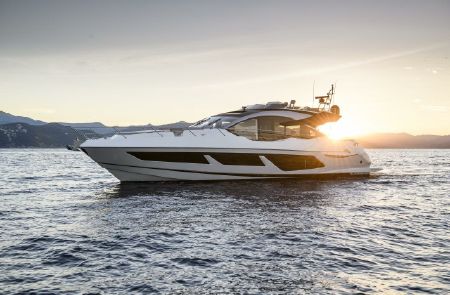 The Sunseeker 74 Predator Sport Bridge is the smallest type of bridge.
It is an express yacht with an area on top just big enough for a control station and a couple of lounge chairs.
There is also another control station below, in addition to the one on top.
Sportbridges usually don't have any shade spots and don't include a bimini top either.
Azimut 80 Flybridge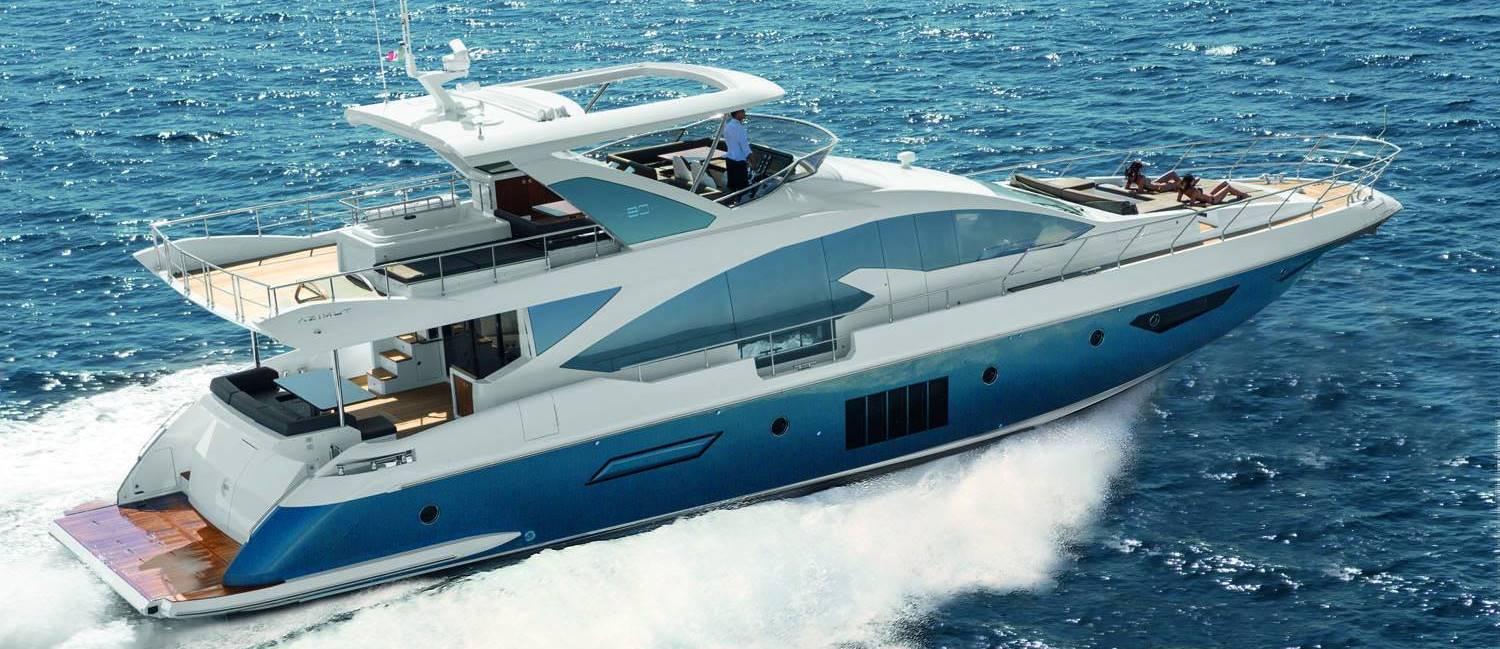 The Azimut 80 Flybridge is a hard top yacht with a retractable soft top.
This gives passengers the option for either sun or shade.
There is also ample room for sunbathing in the frond of the boat if you want full sun and a great view.
Maritimo 48 Enclosed Bridge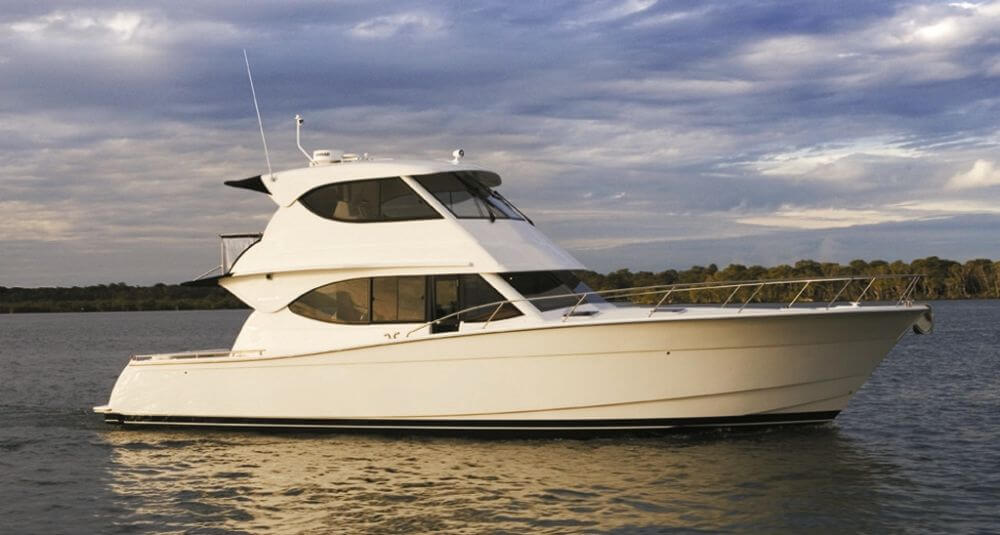 The Maritimo 48 Enclosed Bridge offers the ideal climate control and protection features.
For those that want more protection from wind or the elements, this type of yacht will keep you comfortable regardless of the outside temperature.
The Maritimo 48 also has a helm station on the bridge which offers more living space on the main deck.
Motor Yacht and Skylounge
Motor yachts, pilothouse motor yachts, cockpit motor yachts, and skylounge yachts are used to describe a multi deck vessel similar to a flybridge but with a larger interior main deck.
Motor yachts is perhaps the most commonly used term to describe yachts but as you can see, they are specifically yachts with multiple decks.
Here are a few examples of these types of yacht:
Hatteras 80 Motor Yacht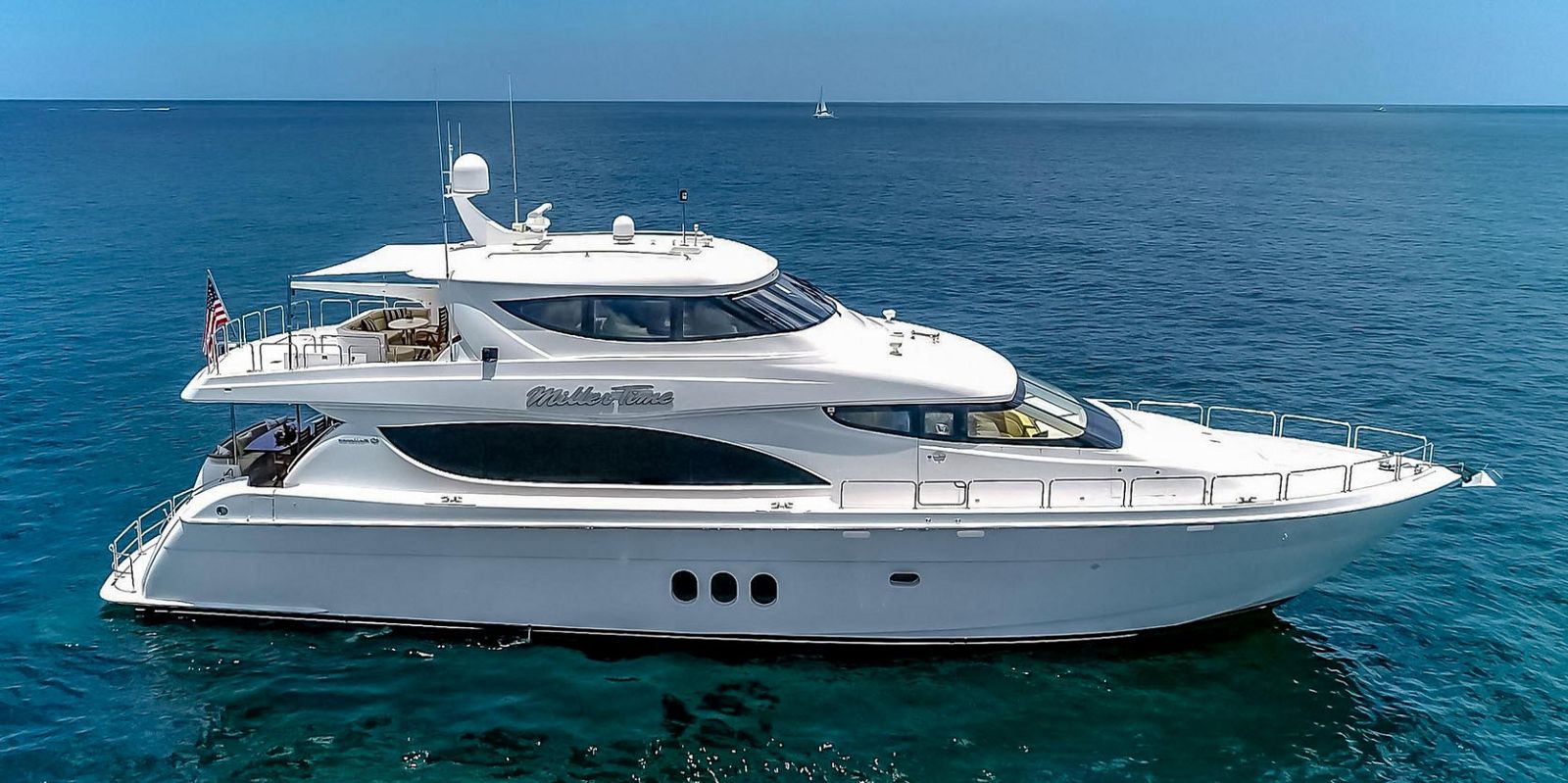 The Hatteras 80 Motor Yacht is an open bridge Motor Yacht with hard top.
With multiple decks and plenty of indoor and outdoor areas, these types of yachts are ideal for longer trips because they offer the most living space per square foot of the boat.
It also features an upper and lower helm station with fully climate controlled environments.
Westport 112 Pilothouse Motor Yacht

The Westport 112 Pilothouse Motor Yacht is one of the most popular motor yachts in its size range.
It has a large indoor pilothouse area in the split level in between he top and bottom.
The pilothouse is completely separate from the living quarters.
Tri-Deck Mega Yachts
A Tri-Deck is a yacht that has 3 levels of enclosed living space.
Although smaller Tri-Decks exist like the 80 Lazzara above, the term is typically seen used in yachts in excess of 120 feet.
These are going to be your larger and longer yachts, most of which are pretty luxurious.
Westport 130 Tri-Deck

Notice on this 130 Westport that there are 2 decks above the hull with enclosed, climate controlled living areas and one deck below, for a total of 3 decks.
There is also a large flybridge above and multiple other open areas for lounging.
Sportfish
A Sportfish is any yacht that is geared towards fishing.
Common names are Sportfish, Express Sportfish, Flybridge Sportfish, or Convertible.
This will mean that they have a large cockpit with which to fish out of, designated storage for rods, bait, tackle and the day's catch.
They typically will also be higher performance than a motoryacht, able to get out to the fishing grounds and back as fast as possible, as well as handle rough seas.
Here are some examples of these types of yachts:
Cabo 52 Express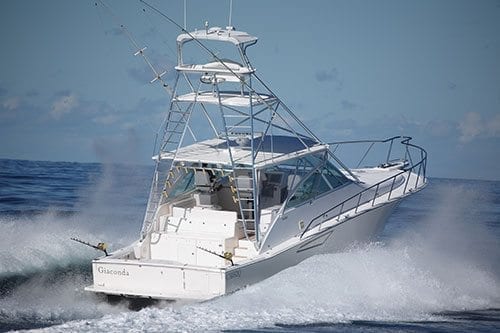 The Cabo 52 Express is the express sportfish style, in which it has 2 decks, one above the hull and one below.
The tower located above the hardtop is used by fisherman to help spot anything that will help them catch fish, be it a tide line, bait jumping or the prized marlin.
Hatteras GT63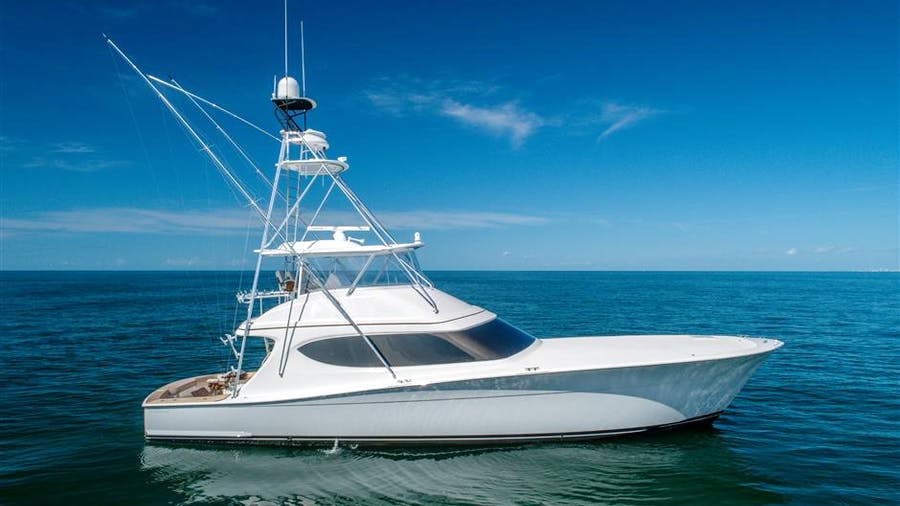 This Hatteras GT63 is a Flybridge Sportfish, with an enclosed living area above the hull and bridge.
This yacht also has the tower for spotting above the hardtop.
She is bred for high speed performance in rough seas and can blast right through 6 foot waves and hit top speeds of over 40 knots.
This type of "Sportfish DNA" is for the yachtsman that wants to chase fish even if the seas are rough, and appreciates a yacht that is solidly put together to handle those conditions.