Most boats come with some sort of upholstery over the seats.
Upholstery makes the boat more comfortable and it also looks nice but over time the upholstery can become worn due to weather and use.
The good news is that reupholstering is usually more affordable than purchasing brand new seats.
How Much Does Boat Upholstery Cost?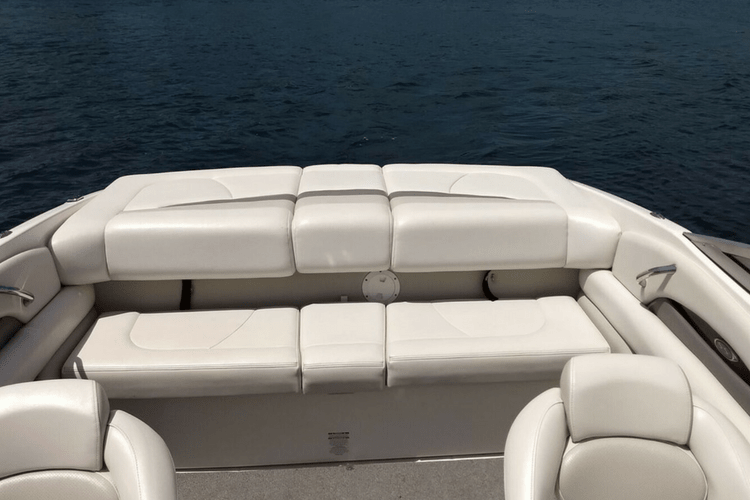 The price of upholstery for your boat will vary based on materials and the size of the area needing to be reupholstered.
On average, the cost per seat cushion ranges anywhere between $100 – $300 or more.
If you have more than just seat cushions, it will obviously cost more.
For example, replacing 2 bolsters, a leaning post seat, seat-back, and 2 small back cushions will cost around $1,000 – $2,000.
Here are some numbers we found on an actual quotes from an online forum that breaks down what it will cost to reupholster different types of seats:
Captains Chair $650
Armrest with cupholders $100
Front sleeper lounger chair $150
24″ x 24″ seat/back $100
24″ x 36″ seat/back $150
24″ x 48″ seat/back $200
24″ x 60″ seat/back $250
24″ x 96″ seat/back $300
Flip flop seat back $100
Captain's chair with arms $540
24″ x 24″ sink base $200
24″ x 8 or 8.5-foot rear deck pad $260 per piece
Strengthen seat $450
Bass boat complete width seat back $420
Lounge seat $600
Engine cover $370
Bass boat pedestal seat without/with back $100
Bass boat deck pad $410
Jet ski seats $610
Pontoon deck replacement $1,500
Obviously these prices will vary as mentioned before, based on the material and size of the project but it can give you a general idea of the cost.
Most boat upholstery repair work companies will require a minimum down payment of 50% and the project cost will include fabric, labor and any other materials needed.
When looking for an upholsterer, you will want to shop around and get different quotes.
Some will charge more than others for the same material and work.
Family owned upholstery shops tend to have better rates and better customer service, although the wait times may be longer.
To keep your upholstery looking new longer, you will want to make sure you keep it clean and wipe it down after each use.
It is also important to winterize your boat during the months that you are not using it.
Leaving your boat exposed during long winter months or even in the hot sun for extended periods of time will cause wear on the upholstery, making it need to be replaced more often.
Lastly, the type of material you use to reupholster your boat matters.
Choosing a material that can endure the damaging UV rays from the sun for longer periods of time will cost more up front, but will save you money in the long run because it won't need to be replaced as often.
Key Takeways:
Don't settle for the first quote you get, shop around for the best price on upholstering.
Make your upholstery last longer by keeping it clean, dry, and winterizing your boat.
Not all fabrics are created equal, choose one with a greater ultraviolet resistance that will last longer and can endure damaging UV rays.